We're still mining pixels. Now broadcasting remotely from our virtual workshop.   We offer artists of all ages individual and small group lessons, as well as one-day and multi-day workshops.
Digital Arts Education for All Ages
Learn to make art with computers.  Join us at the workshop Remotely via Zoom for a wide range of programs for digital artists of all ages – including tutorials and small group lessons, individual instruction and our Virtual After School Digital Arts Club and hopefully Summer Camp back at the workshop.  Our approach integrates practical, hands-on skills development using industry leading graphic arts, animation and motion graphics software in our custom-built computer arts workshop.
Every Day Really is a New Adventure!
For a limited time, we're going to experiment with a virtual open-house Scratch Saturdays. All are welcome, and just like Scratch it's free to participate. Scratch Saturdays are designed to be both fun and educational and a launching point for self-directed learning and experimentation throughout the week. Scratch is from MIT Media Lab – find out more here.
4 Saturday Mornings / 10:00 – 11:30 am.
Sign-up Today!
April 18th
April 25th
May 2nd
May 9th
Free and Open to All. Class size is limited to 8 students.
A STEAM-based Program for Creative Kids 9+
Our program is flexible and designed to meet the needs of today's busy families.  Campers join us for 1, 2, 3 or more weeks. Every week begins a new adventure … or an ongoing one for our multi-week campers!
Every Wednesday and Thursday afternoon kids 9 and up learn how to make art with computers at the After School Digital Arts Club. Each day we explore one or more digital arts mediums – including photography, video, making art with code, animation and just about anything else we can do to make art with computers.
Our focus is on teaching new skills while nurturing individual creative projects, and encouraging an overall sense creative exploration in our collaborative and welcoming workshop virtual classroom.  Club members can join us either day or both days each week.
Sign-up Today. In these extraordinary times, we have waived our membership fee and lowered the session rate to $50.  You still pay as you go, and we still offer volume and sibling discounts.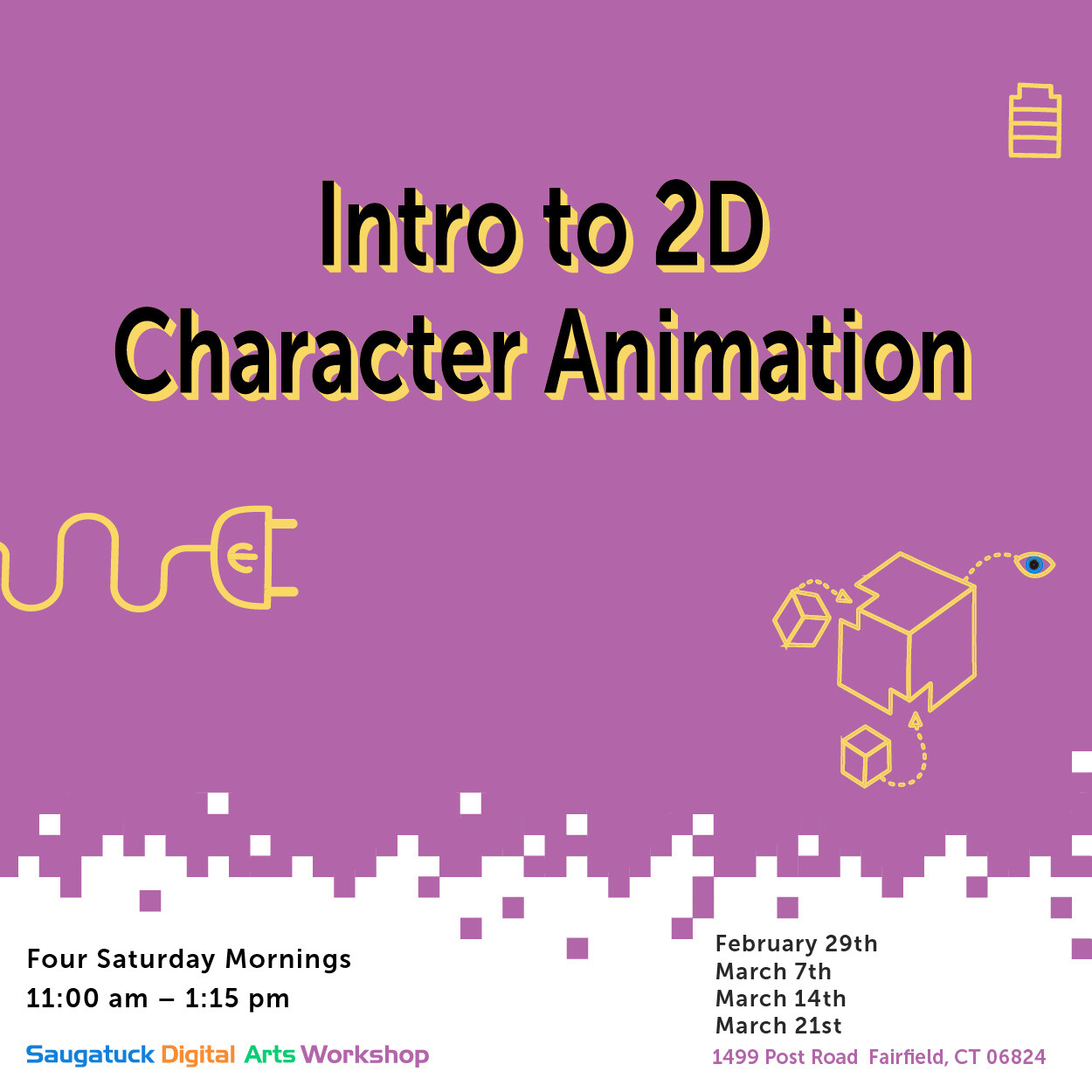 At SDAW we understand that everyone has unique learning requirements as well as a demanding schedule.  To meet the needs of all our students, we offer private lessons as well as small group training scheduled at your convenience.
Book a lesson today, and our instructors will work with you to outline a customized lesson plan designed specifically to meet your creative needs?
Our digital arts classroom and individual workstations are available for rent when not in use for workshops. The workshop is loaded with an HD theater system, fully equipped 27″ iMac 5K workstations and a fast wireless network. We offer discounted rates to arts and non-profit organizations.
Does your small business need a new website, multimedia digital content, creative solutions and/or help with digital marketing strategy? At SDAW, our particular set of skills are available for hire. With extensive professional design and ad-agency experience, our talented staff can do as well as teach.
Now showing in our Gallery
Timeless: A Series of Italian Street Photography — by Sydney Sheehan.
Old and New: The Photography of Burton Stuttman
LOCATED IN THE HEART OF DOWNTOWN FAIRFIELD
Alchemy
The power or process of transforming something common into something special.
Potters master the wheel and clay; painters master pigments and brushwork; sculptors manipulate rock with hammers and chisels. Digital artists – which in 2016 include potters, painters and sculptors – are empowered by using and mastering software. At Saugatuck Digital Arts we believe that creative alchemy occurs at the intersection of craftsmanship and inspiration and that belief underpins our operating philosophy.
A Multi-Use Digital Arts Workshop
The Saugatuck Digital Arts Workshop provides artists, creative professionals and students of all ages access to a digital arts studio
equipped with an immensely powerful toolbox of digital arts software — tools that are easy-to-learn, and accessible to anyone with experience using a computer or a smart device.
A welcoming, fully equipped digital arts studio space.
Workshops and lessons for all levels of experience including students, artists as well as aspiring and working creative professionals.
Powerful 27″ iMac workstations loaded with leading content creation software.
Mike Stuttman


Founder and Managing Director
An animator and digital arts evangelist, Mike is the Founder and Managing Director of the Saugatuck Digital Arts Workshop, LLC. Reared on developer, stop bath, fixer and grains of silver on film — with degrees in mathematics and computer art, and with over 20 years' of advertising agency experience, he has been an enthusiastic participant in a content creation revolution that has irrevocably transformed the worlds of business and art.
Creativity, technology and education have been at the core of Mike's personal and professional interests. He is a lifelong student – and an informed consumer of – technical arts education: He studied photography and animation at Rochester Institute of Technology; Videography at the School of the Museum of Fine Arts in Boston; Mathematics and film making at the University of Colorado in Boulder (BFA); and Computer Art and Animation at the School of Visual Arts in New York (MFA). He has brought the best aspects of those experiences into his education philosophy for the Saugatuck Digital Arts Workshop – which is to teach the craft behind digital art making.